CDR_Stream.h File Reference
#include "ace/CDR_Base.h"
#include "ace/SStringfwd.h"
#include "ace/Message_Block.h"
#include "ace/CDR_Stream.inl"
Include dependency graph for CDR_Stream.h:

This graph shows which files directly or indirectly include this file: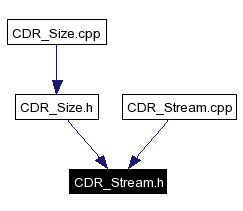 ---
Detailed Description
Id

CDR_Stream.h,v 1.84 2005/04/13 14:28:29 jtc Exp
ACE Common Data Representation (CDR) marshaling and demarshaling classes.
This implementation was inspired in the CDR class in SunSoft's IIOP engine, but has a completely different implementation and a different interface too.
The current implementation assumes that the host has 1-byte, 2-byte and 4-byte integral types, and that it has single precision and double precision IEEE floats. Those assumptions are pretty good these days, with Crays beign the only known exception.
Author:

TAO version by Aniruddha Gokhale <gokhale@cs.wustl.edu>

Carlos O'Ryan <coryan@cs.wustl.edu>

ACE version by Jeff Parsons <parsons@cs.wustl.edu>

Istvan Buki <istvan.buki@euronet.be>

Codeset translation by Jim Rogers <jrogers@viasoft.com>
---
Define Documentation
#define ACE_CDR_BYTE_ORDER 0
---
Function Documentation
---
Generated on Wed Jun 8 23:06:42 2005 for ACE by

1.3.9.1