#include <Sequence_TypeCode_Static.h>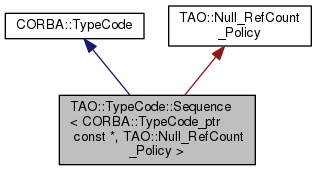 [legend]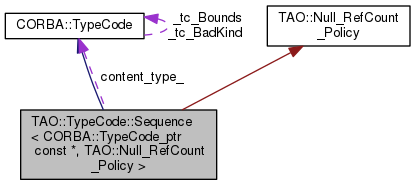 [legend]
Marshal this TypeCode into a CDR output stream.
Marshal this TypeCode into the cdr output CDR stream, excluding the TypeCode kind. Existing cdr contents will not be altered. The marshaled TypeCode will be appended to the given cdr CDR output stream.
Parameters

| | |
| --- | --- |
| cdr | Output CDR stream into which the TypeCode will be marshaled. |
| offset | Number of bytes currently in the output CDR stream, including the top-level TypeCode TCKind. This argument is useful for recursive TypeCodes. TypeCodes that contain other TypeCodes should pass an updated offset value to the marshaling operation for those contained TypeCodes. |
Returns

true if marshaling was successful.
Note

This is a TAO-specific method that is not part of the standard CORBA::TypeCode interface.
If this method returns false, the contents of the cdr output CDR stream are undefined.
Implements CORBA::TypeCode.
Length of the sequence or array. A length of zero indicates an unbounded sequence.
---
The documentation for this class was generated from the following files: