Environment Variable Value. More...
#include <Env_Value_T.h>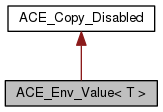 [legend]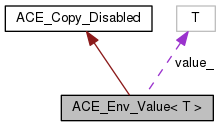 [legend]
Default constructor which isn't bound to a specific environment variable name or a default value. Before being useful it must open()'d.
Constructor that calls open().
The constructor, read varname from the environment, using defval as its value if it is not defined.
Returns the value as type T.
Returns the name of the variable being tracked.
---
The documentation for this class was generated from the following files: