Transport_Acceptor.h File Reference
#include "ace/Acceptor.h"
#include "tao/Basic_Types.h"
#include "tao/Transport_Acceptor.inl"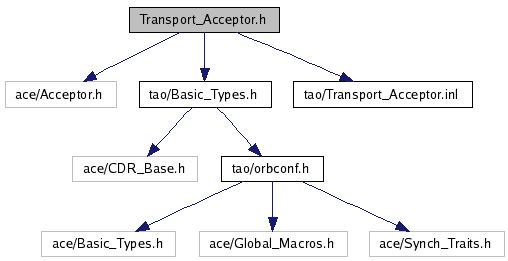 ---
Detailed Description
Id

Transport_Acceptor.h 83337 2008-10-21 09:10:54Z johnnyw
Interface for the Acceptor component of the TAO pluggable protocol framework.
Author:

Fred Kuhns <fredk@cs.wustl.edu>
---
Variable Documentation
The TAO-specific OMG assigned value for the TAG_ORB_TYPE tagged component. This number was assigned by the OMG. Do *NOT* change. The ASCII representation is "TA\x00". If necessary, we can request more ORB types later.