config-lite.h File Reference
#include "ace/config-macros.h"
#include "ace/ace_wchar.h"
Include dependency graph for config-lite.h:

This graph shows which files directly or indirectly include this file: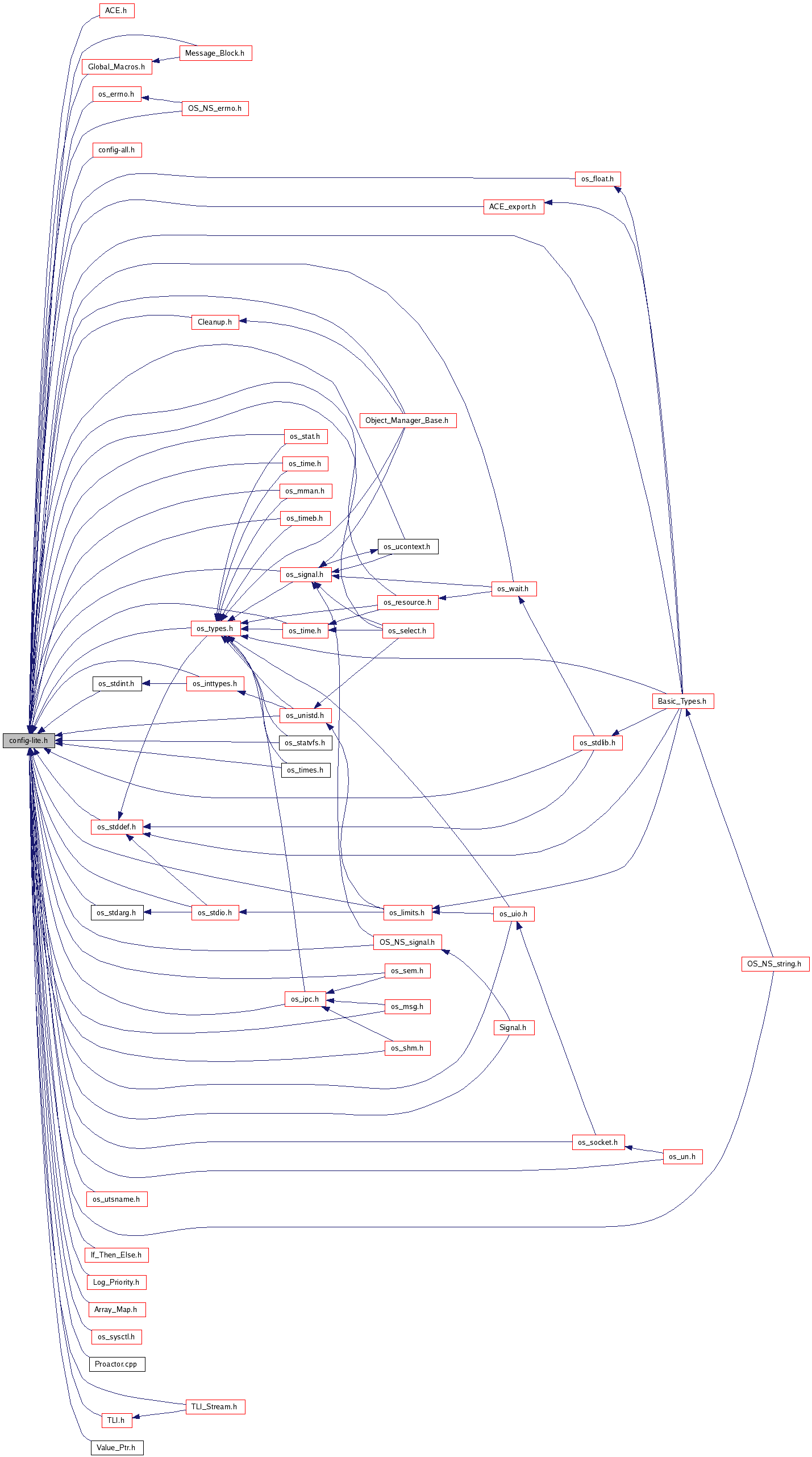 ---
Detailed Description
Id

config-lite.h 76408 2007-01-08 19:50:21Z shuston
Author:

(Originally in OS.h)Doug Schmidt <schmidt@cs.wustl.edu>

Jesper S. M|ller<stophph@diku.dk>

and a cast of thousands...
This file contains the contents of the old config-all.h in order to avoid a circular dependency problem caused by some of the new includes added to config-all.h, e.g., OS_main.h.
---
Define Documentation
#define ACE_DECLARE_STL_REVERSE_ITERATORS
Value:
typedef

 std::reverse_iterator<iterator>       reverse_iterator; \
  

typedef

 std::reverse_iterator<const_iterator> const_reverse_iterator;

ACE_DECLARE_STL_REVERSE_ITERATORS is a crutch to be used until all C++ compiler supported by ACE support the standard reverse_iterator adapters.
For internal use only.
ACE_DECLARE_STL_REVERSE_ITERATORS is not meant for use outside of ACE.
---
Typedef Documentation
---
Variable Documentation
ACE_END_VERSIONED_NAMESPACE_DECL typedef void(*) ACE_EXIT_HOOK(void)
---
Generated on Tue Jan 30 13:08:18 2007 for ACE by

1.4.7-1