TAO::ORB_Table Class Reference
Keep a table with all the ORBs in the system. More...

#include <ORB_Table.h>

Collaboration diagram for TAO::ORB_Table: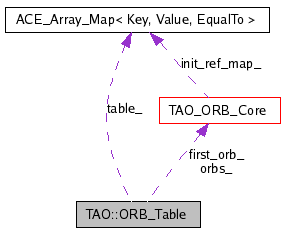 [legend]
List of all members.
---
Detailed Description
Keep a table with all the ORBs in the system.

CORBA::ORB_init() is supposed to return the same ORB if the user specifies the same ORBid, either in the ORB_init() parameter or in the -ORBid option. This class is used to implement that feature. It is also useful when trying to determine if an object reference is collocated or not.
Note:

This class should be instantiated via its instance() method. Normally this would be enforced by making the constructor protected but that forces a friend declaration containing a template type (TAO_Singleton) with a static member to be introduced. In turn, this potentially introduces problems in MS Windows DLL environments due to the occurance of multiple singleton instances. There should only be one!
---
Member Typedef Documentation
---
Constructor & Destructor Documentation
---
Member Function Documentation
---
Member Data Documentation
---
The documentation for this class was generated from the following files:
---
Generated on Tue Nov 21 09:36:49 2006 for TAO by

1.4.7-1