TAO_Object_Manager< T, T_var > Class Template Reference
Manager for Objects. More...

#include <Sequence_T.h>

Collaboration diagram for TAO_Object_Manager< T, T_var >: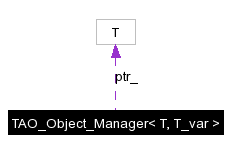 [legend]
List of all members.
---
Detailed Description
template<typename T, typename T_var>
class TAO_Object_Manager< T, T_var >
Manager for Objects.

The mapping for sequences of objects (and other pseudo objects) requires an auxiliar class or <Manager> to handle the reference count on the object, (a kind of smart pointer). The main difference with respect to T_var classes is that automatic release is not controlled on a per-item basis, but for the sequence as a whole. Further the class must implement "transparent" assignment into the sequence, for instance, operator[] returns a managed object, but: object_sequence[i] = foo; must change the state of the sequence. This class implements the generic object manager and is used to instantiate the proper sequence types. = NOTES It has been proposed that the class should be parametric on both T and T_ptr, IMHO this is no necesary: though the IDL spec says that T_ptr *could* map to a type different to T* in the particular case of TAO it does map to <T*>.
---
Constructor & Destructor Documentation
---
Member Function Documentation
---
Member Data Documentation
---
The documentation for this class was generated from the following files:
---
Generated on Wed Apr 19 03:25:06 2006 for TAO by

1.4.6-4