CDR_Base.h File Reference
#include "ace/config-all.h"
#include "ace/Basic_Types.h"
#include "ace/Default_Constants.h"
#include "ace/If_Then_Else.h"
#include "ace/CDR_Base.inl"
Include dependency graph for CDR_Base.h: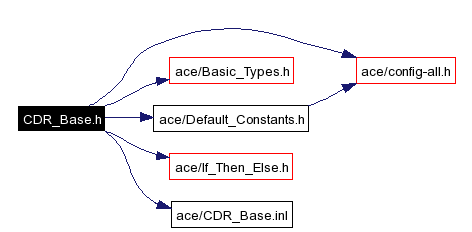 This graph shows which files directly or indirectly include this file:

---
Detailed Description
Id

CDR_Base.h,v 4.29 2005/10/28 16:14:51 ossama Exp
ACE Common Data Representation (CDR) basic types.
The current implementation assumes that the host has 1-byte, 2-byte and 4-byte integral types, and that it has single precision and double precision IEEE floats. Those assumptions are pretty good these days, with Crays being the only known exception.
Author:

TAO version by
---
Define Documentation
#define ACE_CDR_GIOP_MAJOR_VERSION 1
#define ACE_CDR_GIOP_MINOR_VERSION 2
#define ACE_CDR_LONG_DOUBLE_INITIALIZER {{0}}
#define ACE_CDR_LONGLONG_INITIALIZER 0
#define NONNATIVE_LONGDOUBLE
---
Generated on Wed Apr 19 02:06:01 2006 for ACE by

1.4.6-4