TAO_CEC_ProxyPullConsumer Class Reference
ProxyPullConsumer. More...

#include <CEC_ProxyPullConsumer.h>

Collaboration diagram for TAO_CEC_ProxyPullConsumer: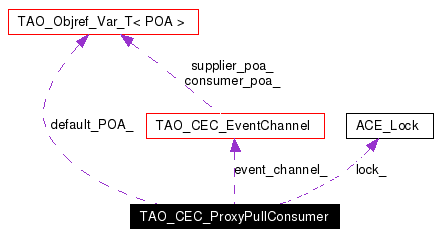 [legend]
List of all members.
---
Detailed Description
ProxyPullConsumer.

Implement the CosEventChannelAdmin::ProxyPullConsumer interface, remember that this class is used to communicate with a PullSupplier, so, in effect, this is the ambassador for a supplier inside the event channel. = MEMORY MANAGMENT The object commits suicide when disconnect_pull_consumer() is called.
---
Member Typedef Documentation
---
Constructor & Destructor Documentation
---
Member Function Documentation
| | | | | | |
| --- | --- | --- | --- | --- | --- |
| CORBA::ULong TAO_CEC_ProxyPullConsumer::_decr_refcnt | ( | void | | ) | |
| | | | | | |
| --- | --- | --- | --- | --- | --- |
| CORBA::ULong TAO_CEC_ProxyPullConsumer::_incr_refcnt | ( | void | | ) | |
| | |
| --- | --- |
| | Increment and decrement the reference count. |
| | | | | | |
| --- | --- | --- | --- | --- | --- |
| void TAO_CEC_ProxyPullConsumer::cleanup_i | ( | void | | ) | [protected] |
| | |
| --- | --- |
| | The event channel is shutting down. |
| | | | | | |
| --- | --- | --- | --- | --- | --- |
| ACE_INLINE void TAO_CEC_ProxyPullConsumer::supplier | ( | CosEventComm::PullSupplier_ptr | supplier | ) | [protected] |
| | |
| --- | --- |
| | Set the supplier, used by some implementations to change the policies used when invoking operations on the supplier. |
| | | | | | |
| --- | --- | --- | --- | --- | --- |
| ACE_INLINE CosEventComm::PullSupplier_ptr TAO_CEC_ProxyPullConsumer::supplier | ( | void | | ) | const |
| | |
| --- | --- |
| | Return the consumer object reference. It returns nil() if it has not connected yet. |
| | | | | | |
| --- | --- | --- | --- | --- | --- |
| ACE_INLINE void TAO_CEC_ProxyPullConsumer::supplier_i | ( | CosEventComm::PullSupplier_ptr | supplier | ) | [protected] |
| | |
| --- | --- |
| | Invoke the _non_existent() pseudo-operation on the supplier. If it is disconnected then it returns true and sets the <disconnected> flag. |
| | |
| --- | --- |
| | Pulls from the supplier, verifies that it is connected. |
---
Member Data Documentation
| | |
| --- | --- |
| | The supplier admin, used for activation and memory managment. |
| | |
| --- | --- |
| | Return 0 if no supplier is connected... |
---
The documentation for this class was generated from the following files:
---
Generated on Fri Dec 31 16:03:51 2004 for TAO_CosEvent by

1.3.9.1