Main Page
Namespace List
Class Hierarchy
Alphabetical List
Compound List
File List
Namespace Members
Compound Members
File Members
Related Pages
---
Asynch_Connector.h File Reference
#include "ace/config-all.h"
#include "ace/Asynch_IO.h"
#include "ace/INET_Addr.h"
#include "ace/Asynch_Connector.cpp"
Include dependency graph for Asynch_Connector.h:

This graph shows which files directly or indirectly include this file: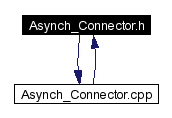 Compounds

class
ACE_Asynch_Connector
This class is an example of the Connector pattern. This class will establish new connections and create new HANDLER objects to handle the new connections. More...


---
Detailed Description
Id:

Asynch_Connector.h,v 1.6 2003/07/19 19:04:10 dhinton Exp
Author:

Alexander Libman <alibman@ihug.com.au>
---
Generated on Fri Apr 2 16:01:19 2004 for ACE by

1.2.18